Disclaimer !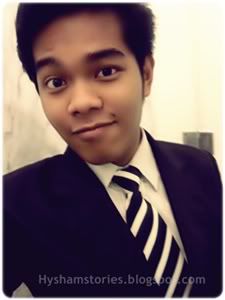 Anyeong Haseyo!
I'm friendly. okay. If we get along, you'll see the crazy side of me :D
For more effect please use Google Chrome to open this Blog. Thanks visit! Muahx!
Secret Admire
Entries
About
Contact
Tutorial
Slot
Food Hunter

Give Away
Big Claps!
Template: Umi Humaira


Basecodes: AtieQa Afiqah


Re-Design: Hysham Hyszham



Its Friday Story : Dajal
Nabi Mu
hammad adalah NABI Akhir zaman yang telah menceritakan segalanya peristiwa sehingga hari kiamat. Nabi Muhammad s.a.w hanya tidak dapat menyatakan bilakah tarikh Hari Kiamat. Maka tak perlu difikirkan.
Masaalah 2012 yang diperkatakan seluruh manusia sekarang adalah merujuk kepada Bab Ke 5. Ia bukannya bab Hari Kiamat. Tetapi bab perali
han tamaddun manusia . Ia pasti berlaku cuma apakah pada 2012 itu adalah haq Allah.

10.1 – Turunnya Nabi Isa
10.2 – Nabi Isa bersolat berimamkan Khalifah Islam di Al Aqsa
10.3 – Cairnya wajah Dajjal tatkala melihat Nabi Isa
10.4 – Matinya Dajjal di tangan Nabi Isa
10.5 – Peperangan Khalifah dan Nabi Isa menetang Yahudi
10.6 – Pokok/batu bercakap jika yahudi berselindung
10.7 – Kemenangan untuk Islam


1.1 – Islam ditegakkan semula
1.2 – Hijrah Rasulullah ke Madinah
1.3 – Dakwah Rasullulah
1.4 – Peperangan Rasullulah menentang kafir


Kelahiran Bayi Bermata Satu

Berita tentang bayi bermata satu yang dilahir di Israel beberapa tahun lalu menjadi gempar. Ramai yang membuat ramalan, inilah dajal yang dijanjikan Allah lewat hadis-hadis Nabi Muhammad s.a.w.. Kemunculan dajal di akhir zaman memang sentiasa ditunggu-tunggu. Dan memang kita pun sekarang ini telah berada di satu episod akhir zaman. Tanda-tanda kecil kiamat sudah kita lihat hampir keseluruhannya, setiap hari. Hanya menanti tanda-tanda besar saja yang belum berlaku. Antaranya dajal.

Dajal… popularnya manusia yang memiliki nama itu. Ada berbagai-bagai versi cerita tentangnya yang menimbulkan bermacam-macam persepsi. Tapi kebanyakan orang Islam di Malaysia dan Nusantara amnya beranggapan dajal adalah makhluk bermata satu melintang. Ada juga yang mengatakan bahawa dia separuh manusia dan separuh jin kerana ibunya berasal dari keturunan jin dan ayahnya daripada bangsa Yahudi.

Sebagaimana yang telah disebutkan di awal-awal tadi, dajal adalah manusia dan sememangnya dia adalah manusia biasa. Dia bukan keturunan jin, gergasi, dewa atau apa saja yang selain manusia. Banyak persoalan yang timbul tentang dajal menjadi salah faham. Antaranya : Siapa dajal ? Di mana tempat tinggalnya ? Siapa keturunannya ? Bila dia dilahirkan ? Bagaimana rupa fizikalnya ? Bila dia akan muncul ? Dan bagaimana untuk mengelakkannya ?

Memang benar dajal tidak ada disebut di dalam al-Quran tetapi ia banyak disebut di dalam hadis nabi. Malah banyak hadis nabi yang salih menceritakan tentang dajal, yang menyebutnya sebagai salah satu tanda besar kiamat. Masalahnya banyak juga hadis yang palsu tentang dajal, ia menimbulkan salah faham masyarakat tentangnya.

Menurut pensyarah Jabatan Pengajian al-Quran dan al-Sunah, Fakulti Pengajian Islam, Universiti Kebangsaan Malaysia (UKM), Fadlan Mohd. Othman, banyak hadis yang salih menceritakan perihal dajal yang lengkap termasuk untuk mengelakkan fitnah dajal. Katanya berdasarkan dari hadis yang diriwayatkan oleh Imam Ahmad,"Sesungguhnya dajal adalah lelaki yang pendek, badan gempal, matanya rosak (mengecut). Kalau kamu masih ragu-ragu tentang Tuhan kamu.

Sesungguhnya Tuhan kamu tidak rosak matanya. Dari situ sudah jelas bahawa dajal adalah manusia biasa yang diberikan Allah kekuasaan luar biasa. Setiap nabi yang diutus akan memberi peringatan berkenaan dajal yang matanya rosak dan pembohong. Tambahnya lagi, dajal adalah manusia yang ada keistimewaan, telah hidup sejak zaman Nabi Muhammad. Dia digelar al-Masihi ad-dajal kerana matanya yang rosak dan kebolehan luar biasanya menghidupkan orang mati. "Tertulis di dahinya perkataan, 'Kaf-Fa-Ra' (kafir).

Tulisan itu boleh dibaca oleh semua orang Islam sama ada dia pandai membaca atau tidak. Asalkan orang itu mengucap syahadat maka tulisan itu boleh dibaca. "Yang pastinya dajal adalah manusia yang ditangguhkan ajalnya oleh Allah, sehingga suatu masa dengan keizinan Allah dia akan muncul semula untuk menguji keimanan manusia," jelas Fadlan. Terdapat lagi hadis yang diriwayatkan oleh Huzaifah di dalam sahih Muslim bermaksud, "Dajal ialah orang yang buta mata sebelah kirinya, lebat rambutnya serta mempunyai syurga dan neraka. Nerakanya itu merupakan syurga dan syurganya pula adalah neraka."

Keistimewaan Dajjal

Allah memberikan dajal banyak keistimewaan untuk menguji keimanan manusia ketika akhir zaman nanti. Semua itu telah dijelaskan di dalam hadis sahih. Di antara keistimewaannya selain boleh menghidupkan orang mati, dajal juga ada beberapa keistimewaan. Antaranya :

Pertama, ada bersamaan syurga dan neraka. Dajal akan menggunakan kedua-duanya untuk menguji keimanan orang Islam. Apa yang dajal berikan sebagai syurga sebenarnya adalah neraka. Dan apa yang diperlihatkan sebagai neraka sebenarnya adalah syurga.

Kedua, dajal akan pergi ke daerah yang kemarau, kebuluran dan hasil dagangan tidak menjadi. Dajal akan menurunkan hujan di daerah itu jika penduduknya mengaku beriman kepadanya. Maka daerah itu akan kembali subur dan hasil dagangan melimpah ruah. Manakala bagi daerah yang penduduknya tidak mahu mengaku dajal sebagai tuhan, akan berada di dalam kebuluran dan kesusahan.

Ada sebuah hadis yang diriwayatkan oleh Ibnu Majah bermaksud, "Para sahabat bertanya : Ya Rasulullah, apa yang dimakan oleh orang Islam yang beriman pada hari itu nanti ?"
Rasulullah menjawab, "Mereka akan menjadi kenyang dengan tahlil, takbir, tasbih dan bertaubat. Zikir-zikir itu yang akan menjadi makanan mereka."

Ketiga, boleh menjelajahi seluruh pelosok bumi ini di dalam masa 40 hari dan kepantasan yang luar biasa. Sebuah hadis yang diriwayatkan oleh Muslim menjelaskan, "Kami bertanya : Wahai Rasulullah, bagaimana kepantasan perjalanannya di muka bumi ini ? " Nabi menjawab : "Kepantasan perjalanannya adalah seperti Al-Ghaist (hujan atau awan) yang dipukul angin kencang." Hanya dua tempat saja yang tidak boleh dimasuki oleh dajal iaitu Mekah dan Madinah.

Menurut Fadlan, Nabi mengingatkan orang yang beriman supaya menghindarkan diri dari berjumpa dengan dajal. Malah nabi bersabda, hanya seorang lelaki dari Madinah yang dapat berdepan dengan dajal. Lelaki itu akan mengatakan bahawa kamu adalah dajal lalu lelaki itu dibunuh oleh dajal. Kemudian dajal menghidupkan semula lelaki itu. Lalu dajal berkata tidakkah kamu percaya kepada aku. Lelaki itu menjawab, "Tidak, melainkan bertambah keimananku kepada Allah." Kemudian dajal cuba membunuh lelaki itu tetapi telah diselamatkan oleh Allah.

Bila Dajjal Dilahirkan ?

Menurut Fadlan, dajal telah ada di muka bumi ini sejak zaman nabi lagi. Ia telah dipenjarakan di sebuah pulau seperti mana yang disebutkan di dalam hadis yang diriwayatkan oleh Fatimah Qais, Nabi menceritakan tentang Tamin ad-Dari yang beragama Kristian tetapi telah memeluk Islam. Tamin pernah bercerita padaku tentang satu perkara yang pernah aku ceritakan kepada kalian mengenai Al-Masihi Ad-Dajal.

Tamin telah berlayar bersama 30 orang anak kapalnya. Tiba-tiba kapalnya dipukul rebut dan mereka terdampar di sebuah pulau. Di pulau itu ada seekor binatang yang lebat bulunya hingga tidak dapat dikenal yang mana ekor dan kepalanya. Binatang itu yang dinamakan al-Jassasah (si pencari berita). Di situlah bermulanya dialog antara Tamim dan al-Jassasah.


Al-Jassasah : Wahai manusia pergilah kamu berjumpa dengan lelaki itu.

Lalu Tamim dan kumpulannya masuk ke dalam hutan dan berjumpa dengan manusia yang dimaksudkan. Lelaki itu mempunyai saiz badan yang besar daripada manusia biasa, dirantai dengan rantai yang cukup kuat, tangannya diikat ke leher, di antara lutut dan buku lalinya dirantai dengan besi.

Tamim : Siapakah kamu ?

Dajal : Kamu akan tahu siapa aku nanti. Tapi siapa kamu ?

Tamim pun jelaskan siapa dia sebenarnya dan kisah kapalnya yang dipukul badai lalu terdampar di pulau itu.

Tamim : Kami adalah orang Arab, kami sesat.

Dajal : Beritahu aku tentang kebun-kebun kurma di Bysan. Adakah ia sedang berbuah ?

Tamim : Ya.

Dajal : sekejap lagi kebun itu tidak akan berbuah lagi. Beritahu aku tentang tasik Tabariah, adakah masih banyak airnya ?

Tamim : Airnya banyak lagi.

Dajal : Tidak lama lagi airnya akan berkurangan dan kering. Beritahu aku tentang mata air Zughar. Adakah masih banyak airnya dan digunakan oleh penduduk untuk bertani.

Tamim : Banyak dan masih digunakan oleh penduduk.

Dajal : Tidak lama lagi air itu akan kering. Ceritakan padaku tentang nabi Arab yang buta huruf. Sudahkah dia keluar dari Mekah dan menetap di Madinah. Adakah orang Arab sudah memeranginya dan kemudian mentaatinya ?

Tamim : Dia sudah keluar dari Mekah dan menuju Madinah. Orang Arab telah mentaatinya.

Dajal : Betulkah itu ? Sesungguhnya mentaatinya adalah lebih baik. Aku akan mengatakan pada kamu tentang diri aku. Aku adalah Al-Masihi Ad-Dajal. Sesungguhnya masanya sudah semakin hampir aku akan diizinkan untuk keluar. Aku akan berjalan di muka bumi dan masuk ke seluruh daerah di dalam tempoh 40 hari kecuali Mekah dan Madinah. Kedua-dua negeri itu dilarang bagiku, setiap kali aku ingin memasukinya aku akan diadang oleh malaikat yang di tangannya ada pedang berkilau dan tajam menghambatku.

Tempat Persembunyian Dajjal

Di manakah kedudukan pulau itu pun dijawab oleh Nabi Muhammad menerusi sabdanya, : "Ketahuilah bahawa dajal berada di laut Syam dan laut Yemen… akan datang dari arah Timur (lalu baginda menunjukkan tangannya sebelah Timur)" - Riwayat Muslim.

Kemudian ada satu lagi hadis yang menunjukkan dengan tepat dari mana dajal keluar yang kemudian disertai oleh pengikutnya terdiri dari orang perempuan dan kanak-kanak. Daripada Abu Bakr al-Siddiq, Nabi Muhammad s.a.w. bersabda, "Dajal akan muncul ke bumi dari arah Timur bersama Khurasan." - Riwayat al-Tarmizi.

Di dalam hadis yang lain pula daripada Anas bin Malik, bersabda Rasulullah s.a.w. : "Dajal akan keluar dari kota Yahudi, Khurasan bersama 70,000 Yahudi dari Isfahan." - Riwayat Imam Ahmad.

Menurut Fadlan, ketika keluarnya dajal, ramai perempuan dan kanak-kanak akan menjadi pengikutnya. Sehinggakan orang lelaki terpaksa bertindak mengikat ahli keluarga perempuan mereka supaya tidak menjadi pengikut dajal.

Menerusi penyelidikan juga, didapati bahawa air tasik Tabaria yang terletak di sempadan Syria-Palestin dan mata air Zughar si Selatan Syria sudah semakin berkurangan.

Cara Mengelakkan Fitnah Dajjal

Jelas Fadlan, Rasulullah telah memberikan beberapa tip kepada umatnya untuk mengelakkan fitnah dajal. Perkara pertama perlu dilakukan adalah menghafal 10 ayat pertama surah al-Kahfi.

Kedua kita diarahkan oleh Rasulullah supaya membaca doa ini sebelum salam setiap kali solat, "Ya Allah, aku berlinding dengan-Mu dari azab neraka jahanam, azab kubur, ujian hidup dan mati dan kedahsyatan ujian al-Masihi ad-dajal."

Katanya, dajal akan menjelajah seluruh dunia dan akan berakhir di Baitulmaqadis dan dibunuh oleh Nabi Isa. Seperti mana yang disebut di dalam sahih Muslim, "Dajal akan dibunuh oleh Nabi Isa, selepas Nabi Isa dan umat Islam bersolat di belakang al-Imam Mahdi, mereka berhadapan dengan dajal dan tenteranya. Bila dajal lihat Nabi Isa, dajal akan mula cair. Akan tetapi Nabi Isa dapat membunuhnya dengan menikamnya."
Labels: Slot Friday